Easy Christmas Crafts- with Design Bundles
Hard to believe, but Christmas will be here before we know it!
The past few years, I've made the conscious decision to be wiser with my gift-giving dollars while still giving presents people love.
Some of my favorite gifts to give are framed printables, discbound notebooks, personalized shirts, and customized stickers. I'm happy to report the recipients' of these gifts have LOVED them.
** This post contains affiliate links. If you make a purchase through one of our links, at no additional cost to you, we will make millions and millions of dollars. Just kidding. We'll make a small commission which allows us to keep the site running, AND we really appreciate it!
One of my favorite places to find fonts and images is Fontbundles. They basically have anything and everything you need to start making customized gifts.
So, back to the Christmas season… right now they have an amazing Christmas Bundle.
For a limited time, you can get this bundle for $24! That's 93% off!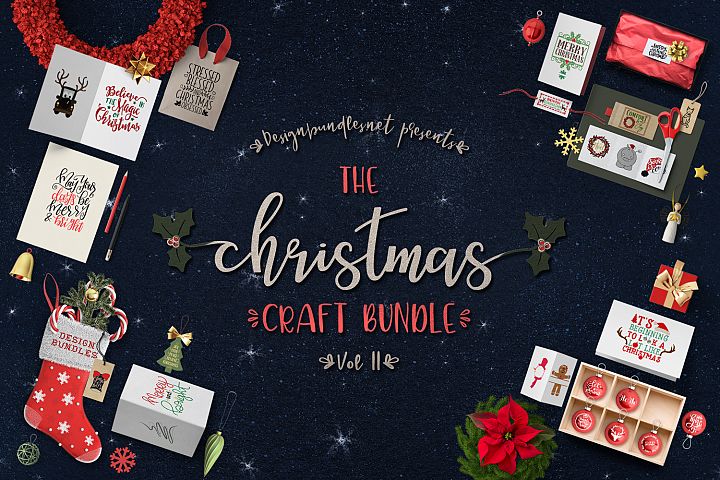 The bundle not only has festive fonts, it has cutting files for your Cricut or Silhouette machine. The bundle includes 10 Christmas fonts, Christmas Monogram frames, hundreds of Christmas cut files, quotes and more. At its current sale price, it's pretty much a no brainer.
This bundle is a must have for any Christmas Crafter.
How I'm Using the Bundle:
Christmas Aprons:
If you've been around the Rock This Revival community for any amount of time, you are well aware that I'm not much of a cook-er or a baker. That said, I can slice pre-made cookie dough like a boss.
This year Madelyn, Maryl, Annabelle, Ellie, Emily, and my mom are all getting Christmas aprons. Having fun aprons to don while we're in the kitchen, makes Christmas more special. It's all about memory-making!
Framed Christmas Art
Who knew you could create framed art people actually love for under ten dollars?!
All you need to complete this project is a printer, cardstock paper, and a frame.
My mom is absolutely getting this framed print at Thanksgiving to have for the Christmas season.
Have co-workers or teacher gifts to buy? This is a great option.
Pro Tip: Be on the lookout for Michaels or Hobby Lobby to put their frames on sale, and you can reproduce this look for under ten dollars even with a gift bag! #winning
Homemade T-Shirts
One of my favorite things ever is my Cricut machine! This file will work for Silhouette machines too. If you're wondering what in the world I'm talking about, the Cricut and Silhouette are cutting machines for crafters. (More posts about the hundreds of things you can do with them to come soon.)
I love everything about this file… the message, the colors, the fonts, and the design. With a quick upload to Cricut design space, I can create a shirt in about 30 minutes from start to finish.
My youngest nieces, Annabelle and Ellie, are getting these shirts to wear to their school Christmas party.

As you can see, the Christmas Design Bundle will pay for itself! It will also give me hours of enjoyment as I play around with everything in it.
So… what are you making? Let me know in the comments!